The pandemic pause in travel may actually fix flying for the long term, say experts.
By Brandon Presser 6. August 2020, BLOOMBERG.COM
Navigating the Roman circus of obstacles known as an international airport is likely the one thing travelers aren't missing during the Covid-19 crisis. Now that forecasts predict tourism won't fully recover until 2023, these transit centers are getting a rare, low-traffic chance to make many of the changes flyers have long wanted—along with upgrades they never imagined.
Among them: disinfection booths, biometric security scans, automated customs and border patrol screenings, and enhanced self-check-in stations. Together, they represent the most significant overhaul of the airport experience since Sept. 11.
"The traditional way we design airports has long been hamstrung in two directions," says Matthew Johnson, who helped spearhead the ongoing $14 billion renovation of LAX in Los Angeles as an aviation principal for architecture firm Gensler. The de facto airport floor plan funnels traffic through an "X" shape, with passengers coming from various entries and converging at one congested portal—TSA—before dispersing to find their gate. This design was largely put into place after the 2001 terror attacks, when extensive security scans became emblems of personal safety.
If long lines were once the price of safety, they're downright dangerous now. "Covid-19 is going to herald a complete reversal," says Johnson, who proposes eliminating the X all together. Airports could become like casinos, he says, coupling eye-in-the-sky surveillance with state-of-the-art sensors—as in the "smart tunnel" at Dubai International that verifies your identity by scanning your iris as you walk through it. Add advanced X-ray technology, and airports may be able to identify threats without requiring anyone to line up, divest, or even put luggage in a tray.
The most radical changes have the potential to turn airports from hotbeds of frustration into beacons of innovation. Here's a look at what's being installed around the world, and a few ideas yet to come.
Checking In

Without having to rush to get through a snaking TSA line, passengers will be able to enjoy their time anywhere in the airport—including presecurity areas. Free of human gridlock, these spaces will be landscaped and outfitted with seating, where it will be possible to get food dropped off from Uber Eats or Grubhub if traffic is light and you're a little early. Such deliveries are being tested at Toronto Pearson.
Airline apps will also mitigate the need to touch screens; in May, United Airlines Inc. announced plans for touchless kiosks that print baggage tags when you scan your phone. Coupled with QR code boarding passes and self-drop luggage stations, the check-in process will be fully digitized. From here, walking to the gate is a choose-your-own-adventure, done on your own time.
Going Through Security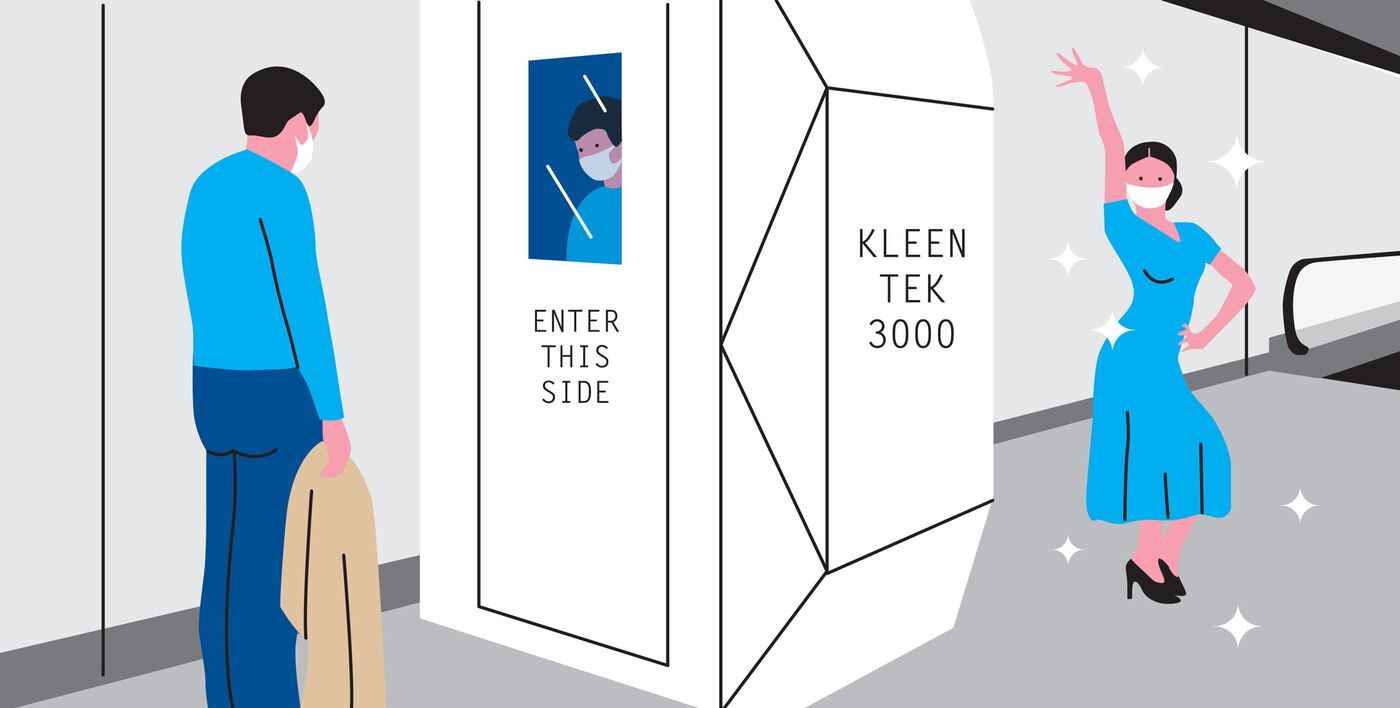 Some airports already provide security without requiring human interaction. At Hong Kong International, passengers tap passports to unlock security barriers, scan their boarding pass, and have their photo snapped for identity verification at an electronic terminal. Munich and Singapore Changi have similar systems. Then there's new technology that's being fast-tracked for deployment: Remotely operated X-ray machines can check carry-ons for explosives, and millimeter-wave imaging systems can examine your shoes for traces of contraband while they're on your feet.
In response to the current pandemic, thermal cameras—common in Asian airports following the 2003 SARS outbreak—will become a ubiquitous way to detect feverish travelers. Trailblazing Hong Kong International is one-upping that, with full-body disinfecting stalls that look like walk-in tanning booths. They take your temperature and blast you with an antimicrobial spray, all in 40 seconds. Except for these stalls, all the technology operates in the background, without your even knowing it (though it may alarm those concerned about privacy).
Navigating the Terminal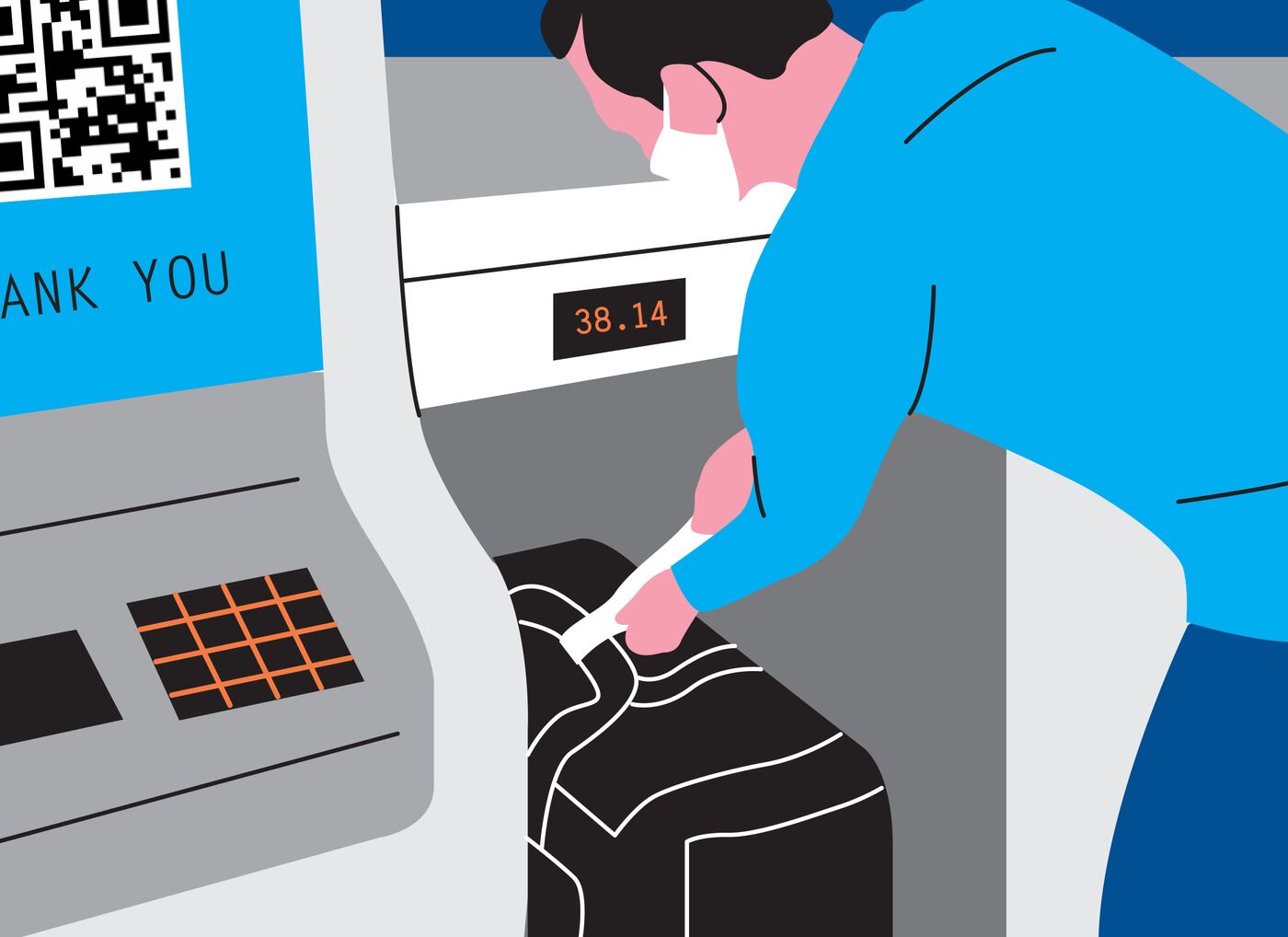 In places such as Seoul Incheon and Guangzhou, a new type of employee can be spotted throughout terminals: robots. Some of them sterilize common high-touch surfaces such as bathrooms, hallways, bag trolleys, and elevator buttons with UV lights; others flag authorities when they detect an unmasked face.
At JFK an artificial intelligence platform called SafeDistance is using cameras to monitor for congestion, so employees can easily identify overcrowded areas and open up other avenues of access in response. A similar software tool called Zensor uses CCTV footage to bring real-time crowd estimates for places such as gate-side bathrooms, coffee shops, or retail outlets right to a traveler's phone; Pittsburgh International is piloting it.
Boarding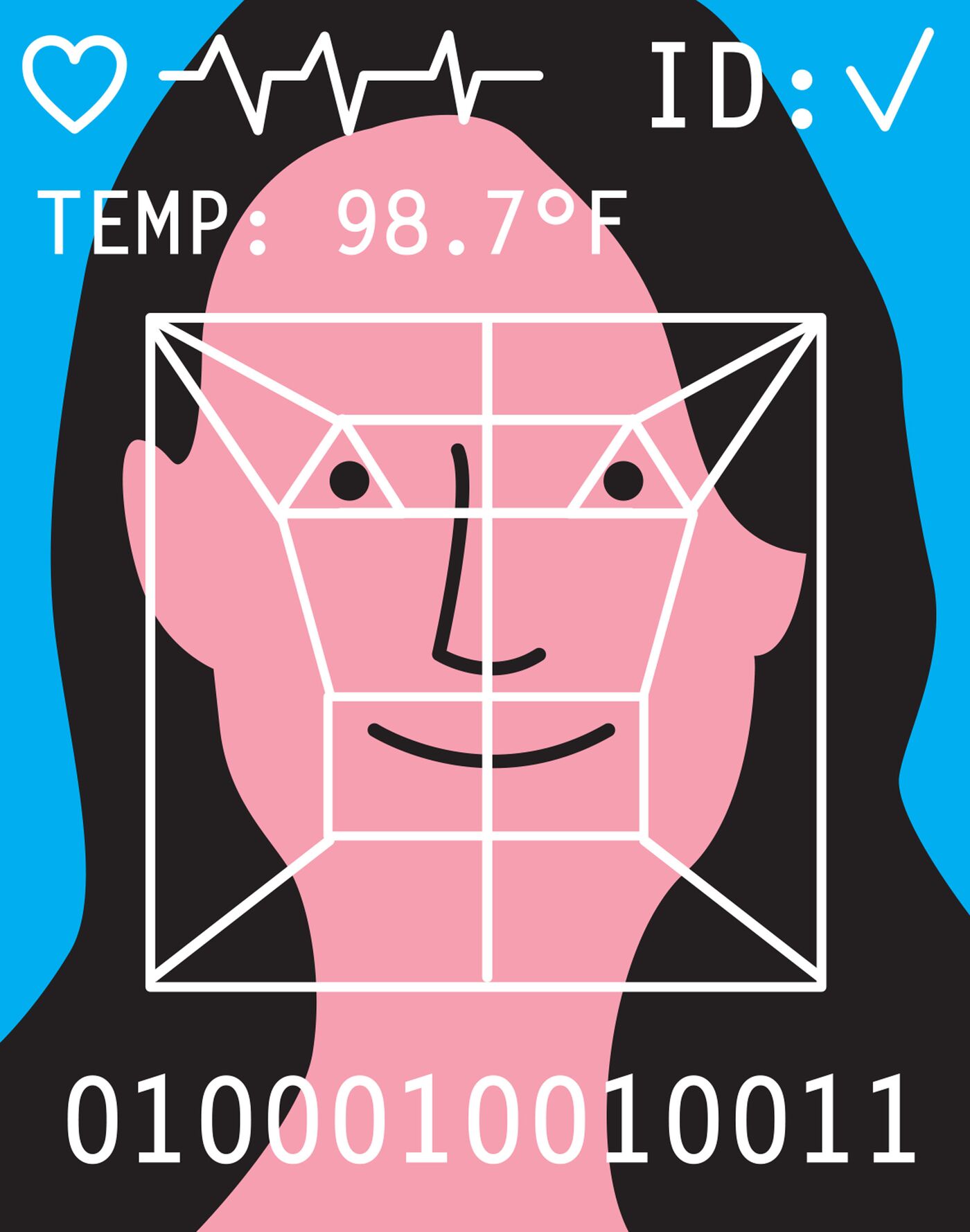 A touchless departure is the last step. Cathay Pacific Ltd. is working in collaboration with U.S. Customs and Border Protection to bring automated boarding gates to LAX and San Francisco International, joining a similar effort at JFK. They'll scan your face and biometrically verify your identity, allowing you to get on the plane without handing over your ticket and passport.
James Groark, who handles landside innovations for the carrier as its vice president for airports, says that "eventually this will be mandatory for all airlines—the writing is on the wall."